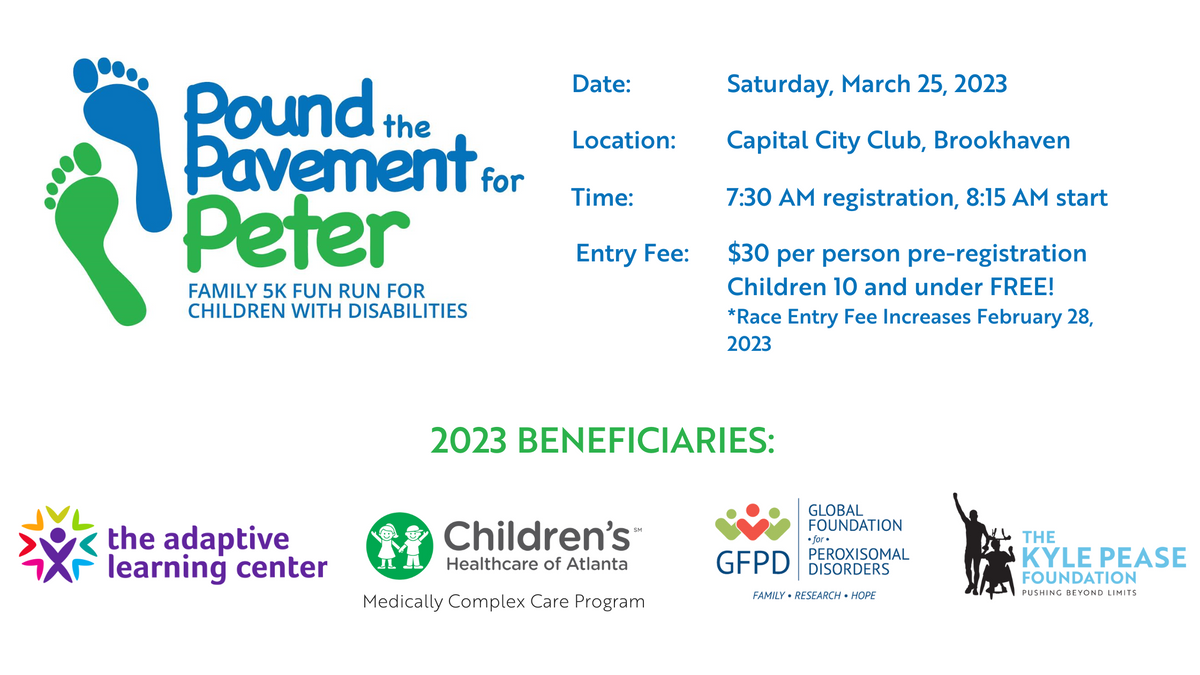 Register to race with us for this year's Pound the Pavement for Peter!
This year, we are offering in-person and virtual participant options. Please register by March 1, 2023 to be guaranteed your requested shirt size.
Sponsorship Opportunities
NEW SPONSORSHIP OFFERINGS!
Please click below to learn more about the benefits offered for each level and how to sign up today.
All sponsorship levels include race participants!
Get Involved and Support!
JOIN A COMMITTEE
Interested in joining the Planning Committee or Junior Committee? Reach out to poundthepavement4peter@gmail.com to learn more.
DONATE AN ITEM
Would your business like to donate an item or gift certificate to be give as a prize at this year's race? Email us for the 2022 item donation form at poundthepavement4peter@gmail.com.
WANT TO VOLUNTEER?
We have a variety of volunteer opportunities available, including Race Day Volunteers! Reach out and sign up at poundthepavement4peter@gmail.com.
Please make your check payable to the Peter Hopkins Foundation:
Peter Hopkins Foundation
955 Stovall Boulevard, Atlanta, Georgia 30319
For any additional information, please email us at: poundthepavement4peter@gmail.com
About Pound the Pavement for Peter:
Pound the Pavement for Peter is a Family 5K Fun Run that was started in 2009 in honor of Peter Hopkins, who, suffering from a Peroxisomal Disorder (PBD), lived his life with many disabilities, and eventually lost his life at age 3. This event is held to raise awareness and funds to help families and children with disabilities and debilitating diseases.
In October of 2010, Peter lost his four-year battle with a peroxisomal disorder. During his short time on earth, he touched the lives of every person he came in contact with and will be remembered by all for his beautiful smile and his joyful presence. Children and families struggling with the reality of disabilities and medical fragilities hold a special place in all of our hearts. We are honored to see his life continue to make a difference for families with children with this disease as well as other disabilities through this race.
Race Founders (Peter's Pals):
Courtney Amos, Allison Barker, Laura Crim, Liza Davidson, Emi Gragnani, Margaret Lesley, Elizabeth Lesley, Molly Lynch, Elizabeth Newton, Britt Prevost, Anne Park Hopkins